WHY SHOULD MY PROPERTY HAVE A
FALL LEAF CLEAN UP?
We recommend that all properties do a general clean up before Winter to remove any leaves, sticks, and unwanted debris from the beds and the turf. Perennials should be cut down as well to make room for new growth early next season. Th will leave your property looking good for Winter and make sure that your lawn is off to the right start for next Spring. 
1. Add Property Curb Appeal
Leaves, sticks & debris left on the lawn can leave your property looking unkempt & detract from your home's overall curb appeal. Ideally, if your property has trees that lose their leaves in the Fall Season, you will want to have routine leaf pick up, followed by the end of the season clean up.
2. Get Rid of That Embarrassing Mess
Your neighbors work hard to keep their homes looking beautiful inside and outside and take pride in their subdivision and community. Do your part & keep your home from looking like the mess of the block by picking up yard debris.
3. Don't Spread Your Leaves To Your Neighbors
One of the most obvious reasons to have a Fall Clean-Up is to keep your yard looking clean. But another not so apparent reason is that you don't spread your leaves to your neighbor's property. While this may not seem like a big deal, if your property is the home on the block with many trees, do your neighbors a favor & pick up your leaves before they blow throughout the neighborhood. Your neighbors will appreciate it, especially if they don't have many trees on their property. 
4. Leaves Can Be Toxic To Grass
Leaves left on the grass can be toxic to the health of your overall lawn. Leaves create a barrier preventing sunlight, nutrients, & lawn treatments from reaching the root of the grass. This barrier can ultimately leave you with a less than desirable yellow & bare looking lawn. By picking up the leaves weekly throughout the Fall, you ensure vital nutrients from the sun, and other lawn care applications reach the root of the grass, where it matters most. 
5. Bugs Will LOVE Your Hospitality
Any leaves not picked up in the Fall makes the perfect warm a cozy spot for bugs, pests, & grubs to build a home. A Final Fall Clean-Up to remove all of the leaves from the property at the end of the season will prevent this.
Lawn Fertilization &
Weed Treatments
Looking to get signed up for service? Learn more about our current services & quickly get a quote for your property.
6. Your Lawn Could Get Fungus & Disease
Over Winter, any leaves left on the lawn will soak up moisture from the snow. In the Spring, the warm temperatures mixed with the leaves' extra moisture from the snow creates the perfect breeding ground for fungus & lawn diseases. Fungus & disease can ultimately lead to damage to your lawn, which could mean having to pay more for specialized lawn treatments or turf repair services.
7. Spring Clean-Ups Can Be Difficult & More Expensive
Skipping a clean up in the Fall could mean a more expensive clean up in the Spring. Over the Winter months, leaves can end up frozen to the lawn, making the clean-up process longer & more tedious. Crews will have to use smaller handheld equipment to remove any leaves, sticks, and debris from the property to prevent lawn damage. Plus, the added weight of the moisture in the leaves will take crews longer to clean up and can also make debris removal costs more expensive.
It's important to remember; landscapers book up fast in the Spring, which could mean you end up paying a premium or waiting longer to be serviced if you delay.
8. Cut Old Perennial Growth To Help New Growth Flourish In Spring
The Fall is an excellent time to cut back perennials so that new growth can flourish in the Spring. Leaving old or dead growth on plants can leave them less desirable looking, leaving less space for new growth to flourish. By cutting down perennials in the Fall, your new Spring growth will have plenty of room to spread out and grow (which is good because perennials can start sprouting when there is snow on the ground).
Plus, it will make it very hard for your landscaper to cut off the old-growth if there is already new growth.
9. Overall Don't Procrastinate
Overall, don't procrastinate with your Fall Yard Clean Up. Keeping your lawn clean in the Fall will help set your property up for success in the Spring. If Winter comes early, you may end up with a barrier of leaves on your lawn that could cause problems later. It's also possible that you end up paying more in the Spring if you skip the clean up this Fall.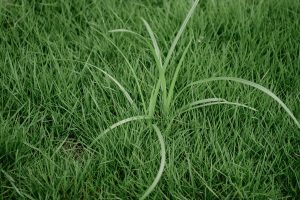 Learn how to find & identify common Illinois lawn weeds that might be growing in your lawn.
Read More »