Crystal Lake's Best Lawn Care
& Landscape Company
Let our lawn services simplify your life this summer.
What
Lawn Care Services
Can I Help You Find?
We have fantastic customer service. Above all, we want to help you with all your lawn service and landscaping needs. Let us know your goals, your concerns, and any problems you have had in the past. I promise you that we will do everything in our power to help you. 
The truth is that many landscaping companies in the area can mow your lawn. Yet, most will not provide even the basics in customer service. For example, many other businesses do not stand behind their work with a money-back guarantee. 
Our customers know how excellent our service is. Read our customer's reviews to see what your neighbors say about us as their lawn provider.
We're Already In Your Neighborhood!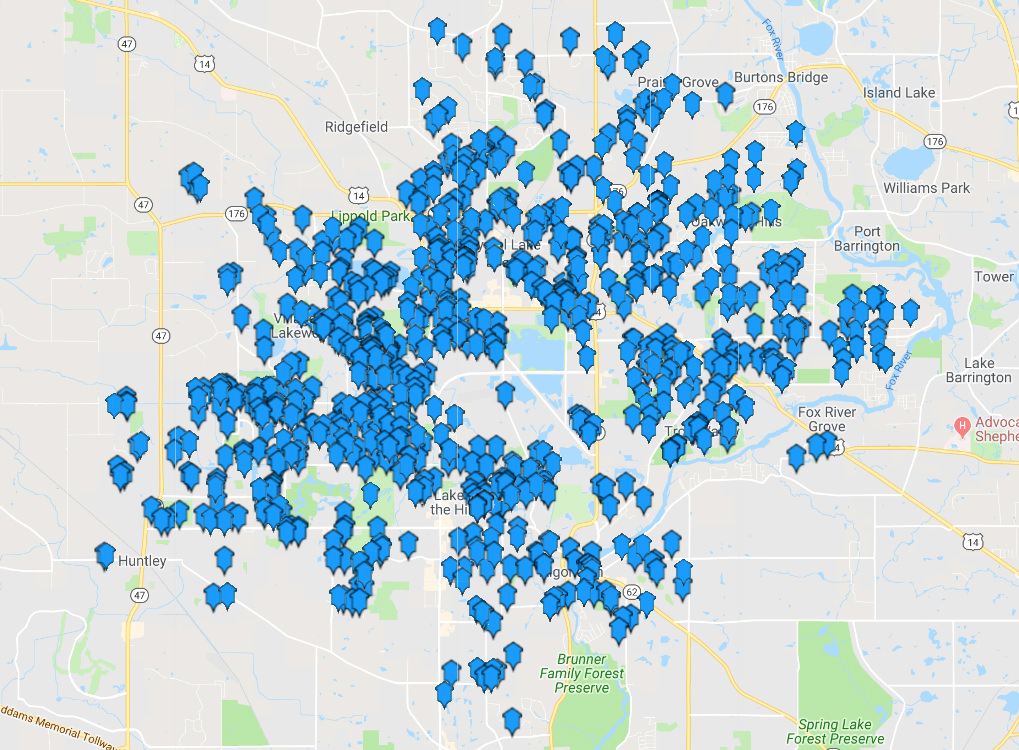 We're local in your neighborhood! Since 2002, thousands of residents have trusted Elite Lawn Care as their local landscaper to provide lawn care services & maintain their landscaping seasonally.
We Provide Lawn Care Services To:
Elite Lawn Care gives you everything you need for a truly green lawn.
We make it easy for you to have a local lawn company take care of your home's weekly mowing, fertilizing, mulching and other landscaping services that are all customized to fit your needs and budget.
View our
Complete Maintenance Plans
Our plans range from the basics of Mowing & Weed Pulling, to complete seasonal programs, such as our Fertilization & Weed control Package, which are designed to keep your lawn neat & improve your turfs overall health.
100% NO WORRY MONEY BACK GUARANTEE
We offer a 100% No-Risk Guarantee. If you are not happy with our work, we will do whatever it takes to make it right. If you are still not pleased, you pay nothing. There is nothing more important than your complete and total satisfaction.
Why Our Customers
Love Us!
What Your
Neighbors Are Saying
We LOVE our customers, and they LOVE us. Elite Lawn Care is one of if not the highest rated lawn care and landscape service providers in Crystal Lake, Algonquin, Lake in the Hills and Huntley, Illinois.
Elite Lawn Care has been handling our lawn care (plus snow removal) for a number of years now. They're reliable and always do a great job. We've been happy to refer them to our neighbors and friends.
The very best of Elite is the people - everyone in the office is so kind, efficient and knowledgeable. The men in the crew sent to us (twice) were polite, friendly, really, really good at what they do, and don't waste time.

Thank YOU, Elite, for being such a classy business!
Great lawn service! Conscientious, friendly workers. The yard looked beautiful this year, they did the grass cutting they pulled weeds and they laid mulch, and also did the shrubbery trimming. Couldn't be happier!
We have been using Elite Lawn care for the past 5 years now and are very happy with our service. This year we upgraded to a new package that included fertilizer, weed control, etc and our lawn has never looked better! Prices are fair and they do great work!
More than just a lawn mowing service. Our terrace had settled badly, impinging on the house siding and creating low spots where freezing water would be a hazard. The Elite Lawn Care staff removed the terrace surface bricks and sidewalk bricks for complete re-installation, and rebuilt major portion of supporting wall to solve decade old issues.
As president of our association, I get all complaints and/or compliments, and in the years we have been doing business with Elite, it has been all compliments. I highly recommend Elite for both your Summer lawn care service and Winter plowing.