Step-By-Step Guide For A Perfect Lawn In Illinois
At Elite Lawn Care, we pride ourselves on the quality of the lawns we help create. Many of the lawn care details laid out below are taken from our Premium Turf Health Package. While we do offer lawn care packages and maintenance plans to fit lawns and budgets of all sizes, it is important to remember that the "perfect" lawn takes a lot of hard work and dedication. If it is possible to implement all of the services and guidelines laid out below, your grass will have the best chance to grow into something special, and you can finally have the perfect lawn you have always wanted!
Before any other lawn services or treatments can even begin for the year, we must first address what's left from the previous year. As part of our spring clean up services, we remove all leaves and debris from your lawn that may have accumulated in late fall and winter. Using both blowers and rakes, we will get your lawn cleared and ready for other treatments, and we will even edge along beds and sidewalks to get your lawn looking its best as early as possible. Be sure to check out the link below for even more services included with our spring clean up plan!
Dethatching, Core Aeration, and Overseeding
Depending on the needs of your lawn, the soil in your yard may benefit from two aerations per year. While fall is typically the best time to perform core aeration, overly compacted and struggling lawns may need to be aerated in spring to allow nutrients and water to start flowing through the soil. Raking and breaking up thatch before aerating is always the way to go, as this ensures even better aeration results. 
Laying down grass seed immediately after core aeration is the best way to fill in some of those recurring bare spots on your lawn, as the holes created by the core aeration process are the perfect depth for seeds to germinate and take root. See more benefits your lawn will receive from these combined services below:
Less compacted soil

Better drainage/less puddles

Improved nutritional intake

Better fertilization results
Deterred weed growth

Stronger roots

Optimal seeding results

Easier grass seed germination
Fertilization & Weed Control
Fertilization and weed control services are our bread and butter when it comes to creating the perfect lawn. Our Premium Turf Health Package is designed to give you the greenest grass in the Crystal Lake area, and it begins with fertilization in mid March. Unlike most other lawn care providers, we do not mix our fertilizers and herbicides. Instead, for spring fertilizer applications, we will apply two treatments of pure fertilizers at the beginning and end of spring. These spring fertilizers are of a slow-release, low-nitrogen, and granular variety, which is best for avoiding turf burn early in the year. 
By keeping our weed killers separate from our fertilizers, we can better target harmful weeds that are either already existing or waiting to emerge beneath the soil surface. We will use a broadleaf weed killer for existing weeds, such as dandelions, thistles, and many more, and we will apply a pre-emergent to reduce germination rates for crabgrass and other grassy weeds before they even have a chance to emerge.
Once sunshine has returned and turf begins to grow again, it is time to start mowing and watering your lawn. Towards the end of March, depending on how early your turf starts growing, we will begin a weekly mowing schedule. Mowing every week throughout the growing season keeps your lawn at a healthy height and promotes strong regeneration with each trimming; the more you mow, the stronger your grass will be! We also change patterns and directions each week in order to keep your grass growing upright and to avoid turf stress. Below are some general guidelines we follow for mowing and watering your lawn:
Mow cool-season grasses near 3.5 inches

Mow warm-season grasses near 2.5 inches

Leave clippings behind for added fertilization/soil health

Line-trim and edge along perimeter of lawn

If seeding occurs, water every morning for 30 minutes for up to three weeks

Water early in morning to avoid fungal disease

Keep newly seeded lawns damp but not soaked 

Always skip a watering session after heavy rainfall
To prevent lawn grubs and insects from destroying your turf, we apply a premium grub control pesticide to your lawn at the start of summer. Lawn grubs feed on and destroy the roots of your lawn, and other types of bugs and insects can damage individual grass blades above the soil surface. By treating your lawn for grubs and insects at the start of summer, we can aim to remove both the new and the previous grub generations before they have time to do any severe damage to your turf. 
Any areas where grubs or insects are already present will be treated in order to eradicate the infestation. The rest of the lawn will be treated in order to prevent new infestations from developing. Some benefits of our grub control treatments include thick grass blades, stronger roots, improved nutritional intake, fewer animals digging in your lawn, and much more!
Fertilization & Weed Control
Our premium fertilizers are applied twice in summer, and these applications are similar to our fertilization methods in the springtime. While it is tempting to use a high-nitrogen fertilizer to get quick results, our slow-release, low-nitrogen fertilizers are very effective at providing your lawn with a lush green appearance that will last much longer. By the time you receive your second summer fertilizer treatment (fourth of the year), your lawn should be one of the fullest and greenest on the block!
Weed control efforts continue through the summertime. Our weed killers remain separated from our fertilizers in order to give you the most targeted and effective weed control in Illinois. Just like our spring application, we will spray a broadleaf weed control across your entire lawn to take care of any common weeds that may have sprouted since our last visit. We will also apply spot treatments for existing grassy weeds at no additional cost to you! Other companies may charge extra for the kind of full coverage our weed control applications provide, but our Premium Turf Health Package includes all the weed control treatments necessary to keep your lawn looking its best through summer. 
By the time summer arrives, your lawn should be growing at a healthy rate, and now is the time to maintain that growth with proper mowing and watering habits. Mowing should continue on a weekly schedule, and watering should now occur every other day (unless new seed has been laid down). The guidelines below should be followed for optimal mowing and watering results during the summer months:
Do not remove more than top ⅓ of grass growth

Mow cool-season grasses near 3.5 inches

Mow warm-season grasses near 2.5 inches

Leave clippings behind for added fertilization/soil health

Line-trim and edge along perimeter of lawn

Water early in morning to avoid fungal disease

Water every other day, and allow heavy rainfall to replace a session

Make sure each zone is watered equally for up to an hour
We offer leaf removal services in Illinois all year long, but fall is the time when those services are needed most! We suggest setting up a weekly leaf removal schedule once the leaves begin to fall in order to keep your lawn green and neat and to maximize the effects of our other treatments. Our crews will rake, blow, bag, and remove leaves from your lawn before we apply any other treatments that will get your lawn ready for winter. Your lawn will receive the following benefits from weekly leaf removal services in fall:
Less pooling water

Continued turf growth

Less insects and bugs
Lower chances of lawn disease

Reduced thatch buildup

Optimized fertilization results
Dethatching, Core Aeration, and Overseeding
In early fall, before the ground gets too hard and conditions are too cold, most lawns could benefit greatly from core aeration and overseeding. If you elect to only aerate once per year, it should take place in early fall. Just like in the springtime, aerating improves the overall health of the soil in your lawn, but it is especially important in fall because your lawn needs to be in good shape before the harmful effects of winter arrive. Keeping your lawn's soil loose, healthy, and ready to germinate via fall aeration is one of the best possible strategies for winter preparation, and it should be accomplished in the following steps:
Remove all leaf coverage from your lawn

Rake over your turf to

break up thatch

layer

Use core aeration methods to proke small holes in your lawn 

Spread grass seed over aerated soil/struggling areas
Fertilization & Weed Control
The final fertilization treatment of the year comes in early fall and it features a winterizing fertilizer that will sustain your lawn throughout the colder months. This treatment focuses on seed development so that those recently planted seeds can germinate and create a stronger lawn leading into winter. This fertilizer is also packed with iron to help your lawn sustain its green color at this challenging time for turf growth. 
The weed control treatments we apply in fall will not cover your entire lawn like the treatments we apply earlier in the year. At this stage in the year, the pre-emergent weed control we previously applied is not necessary, and our weed control efforts are targeted more towards specific areas. Any existing weeds that are still lingering will be spot sprayed to get your lawn as weed free as possible. We want to have your lawn in great shape and ready to spring back to life early in the following year!
Depending on the growth your turf exhibits at this stage, mowing and watering can be drastically reduced as the temperatures begin to cool. Continue to mow the top ⅓ of your lawn until growth stops for the year. Watering is not typically recommended for Illinois lawns as we enter late October to early November; however, if seeding takes place in early fall, make sure the guidelines below are followed for the first three weeks:
Water every seeded area daily for 30 minutes 

Water early in morning to avoid fungal disease

Keep newly seeded lawns damp but not soaked 

Always skip a watering session after heavy rainfall
Watering of new seeds can stop after a few weeks, and watering should be stopped altogether come late fall. Once your lawn has been raked, aerated, seeded, and watered before winter, the work is done, and your lawn will be ready to face the winter weather. Make sure to call us at (815) 880-7333 for more information about how Elite Lawn Care creates perfect lawns in Crystal Lake!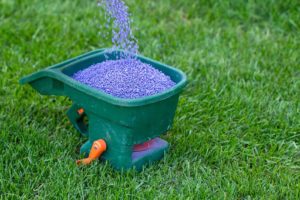 Lawn fertilization if necessary for a healthy lawn. But what kind should you use? Here we will look at the benefits of granular fertilizer.
Read More »
Many of us know about lawn fertilization and its benefits. However, few people know about the benefits of liquid lawn fertilization.
Read More »
Red thread disease plagues many lawns here in Illinois. Click the link to find out more about red thread, and how to treat it!
Read More »