These Less-Known Lawn Care Techniques Are What Your Lawn Needs!
Many people only think about mowing their lawn, watering it, and maybe fertilizing it once a year. However, there are three other services that can be extremely beneficial for your lawn: core aeration, dethatching, and overseeding. These services have unique benefits that could provide the answers to many of your lawn care concerns. 
How & When To Get Started!
The best thing about these less-known lawn care techniques is that they each benefit each other when performed in conjunction with one another. The holes made in the core aeration process are perfect for laying down seed at a healthy depth for germination. Dethatching right before aeration and seeding is necessary to ensure success, and helps the chances of new grass seed to germinate in your lawn.
Fall is often the best time to aerate, dethatch, and seed! Seeding in fall ensures that your lawn will be ready to emerge early in spring, which is why core aeration should always be performed in fall or early spring. For more information on how core aeration, dethatching, overseeding or any number of other services can improve your lawn, contact Elite Lawn Care today.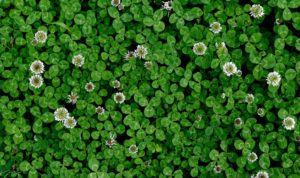 White clover is a common lawn weed in Illinois and many other parts of the world. It can be identified by its three leaves and white flowers, which is why it is often referred to as "white clover." While this plant may look harmless, it can actually have serious consequences if not properly managed or treated in your lawn. This post will help you learn all you need to know about this pesky lawn weed so that you can keep your lawn lush and healthy!
Read More »
Have you noticed orange spots or patches on your lawn? If so, then your lawn may have a case of rust! Rust is a common fungal lawn disease in Illinois caused by fungi in the Puccinia genus. It's important to be able to recognize rust, understand what causes it, and know how to control it if you want to keep your grass healthy. Elite Lawn Care is here to inform homeowners all about this disease in order to do what we do best—keep your lawn healthy and looking great!
Read More »
Leaf spot is a very common lawn disease that every lawn care enthusiast will encounter at some point in their life. The good news is that this particular disease is easy to identify and treat if you know what to look for! Let's take a look at what exactly leaf spot is and what you can do about it in your lawn!
Read More »